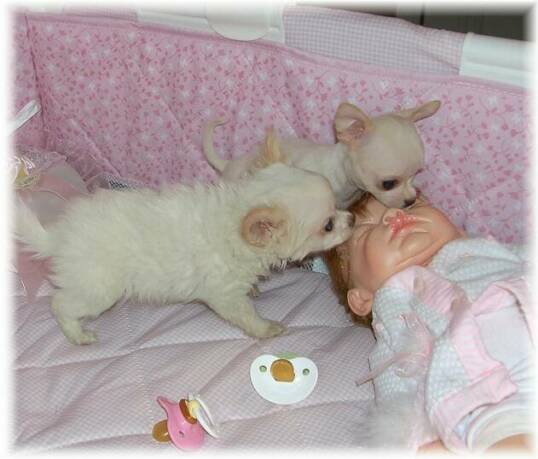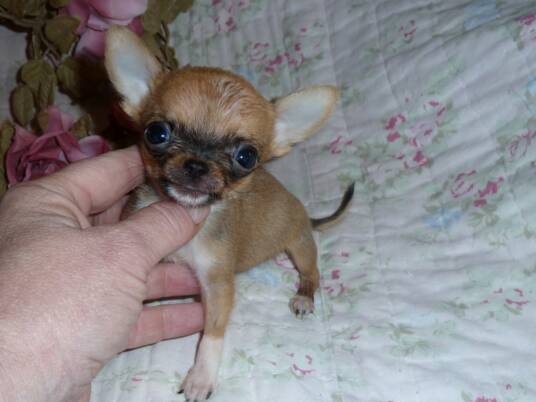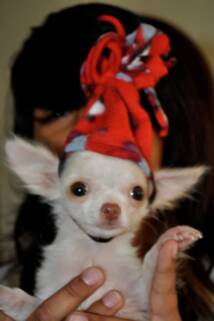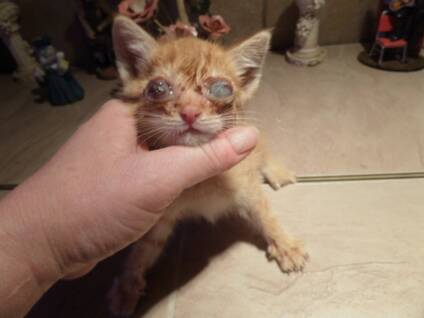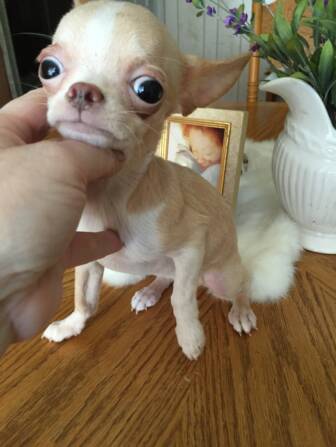 I have been in Feline Rescue for almost two decades and monitor colonies near the river and in orchards in my locality. I have used  thousands of dollars each and every year  from my Chihuahua puppy sales to support this rescue efforts. With appreciation to our customers.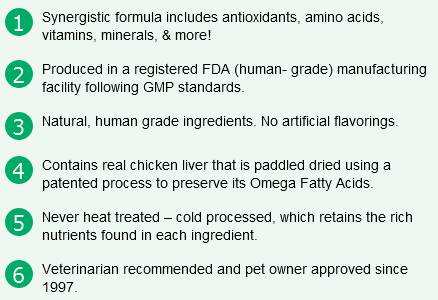 Veterinarians must spend over $150,000 and study for 8 years in an accredited school before they can give a puppy a simple vaccine shot. Yet, dog breeders produce the very LIVES of puppies without any credentials to prove competency. The medical treatment of a young dog with early degenerative disease is often due to unethical dog brokers and careless breeders without knowledge of canine genetics,
microbiology,
parasitology and pathology. Healthy Chihuahua puppies  come from knowledgeable dog breeder who specializes in one beed,.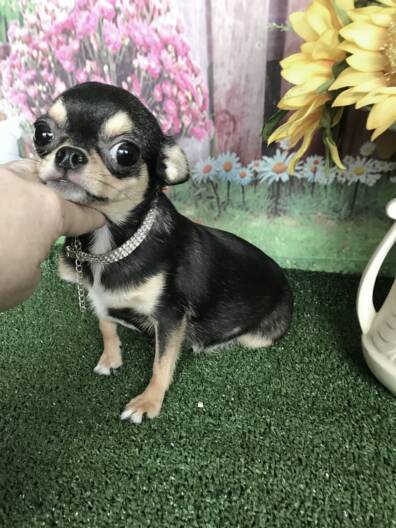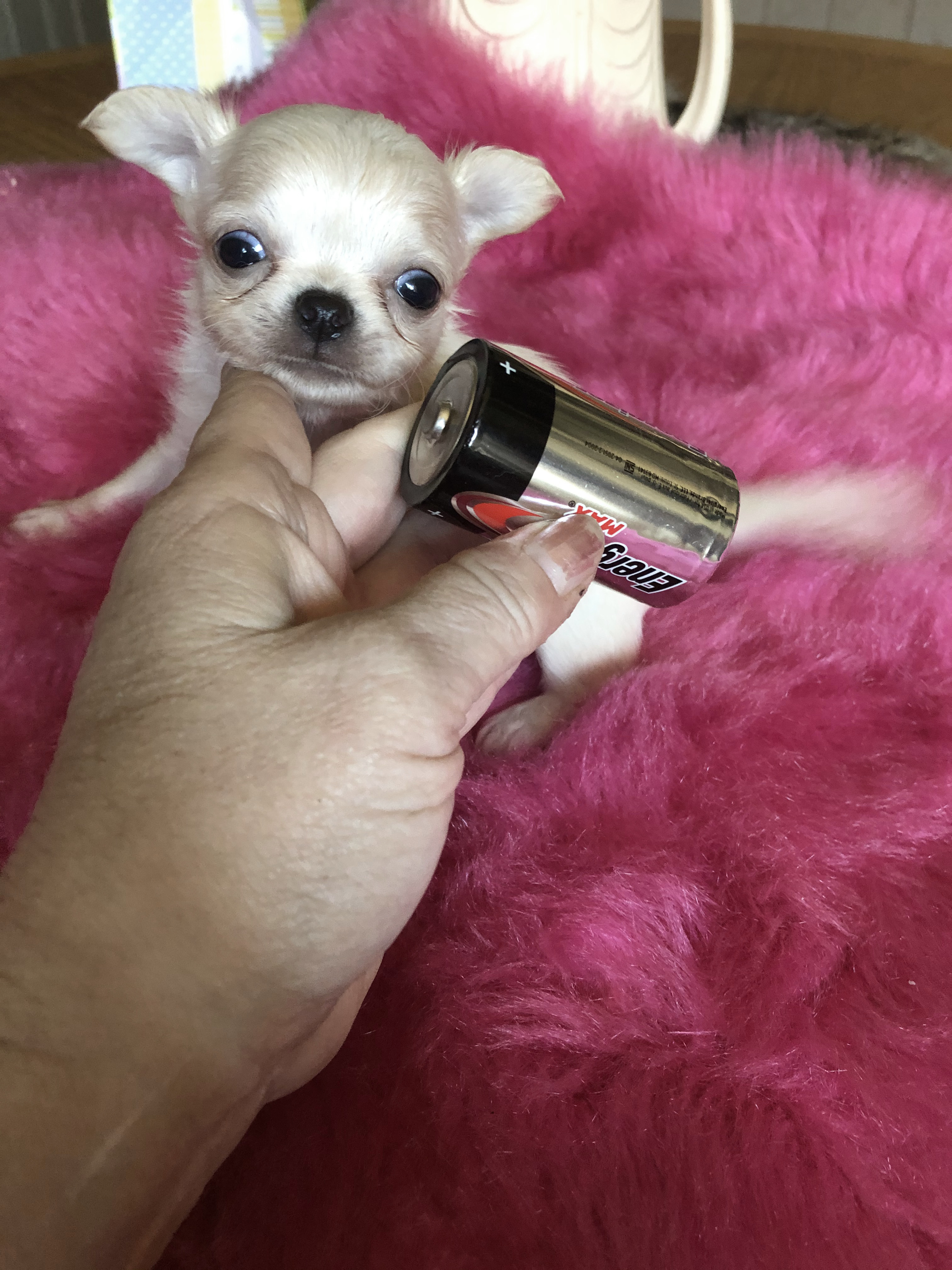 Puppy Sales Fund Feline Rescue 17 years Now

Welcome,  I  offer harder to find quality Applehead  Chihuahua Puppies For Sale and have specialized in  Chihuahuas for 24 years. Sometimes I have average looking puppies at better prices. ( Not all puppies are of show looks )  I charge LOOKS and then size . Don't judge size of my puppies based on prices alone.  A fabulous toy puppy will cost more then a  smaller average  pet quality type. After two decades of selective breeding to produce a uniform smaller size, we rarely have any puppies that will go over 5 lbs. We started out with several champions AND Champions can produce fuller sized. Two decades ago I would have a variety of size with one sibling ending up 3 lbs and another sibling ending up 7 lbs. It took decades to end up with a more uniform overall smaller size Pease look at the inch measurements of our adult dogs to see our common inch size of adults. Click to view
our adult sizes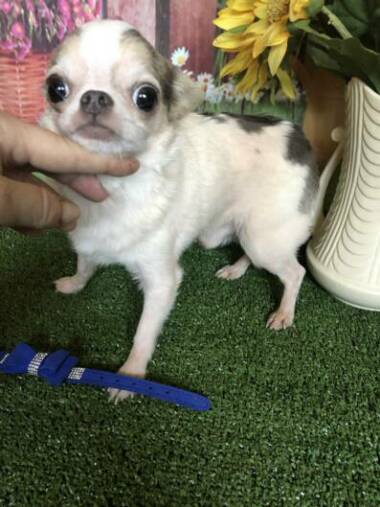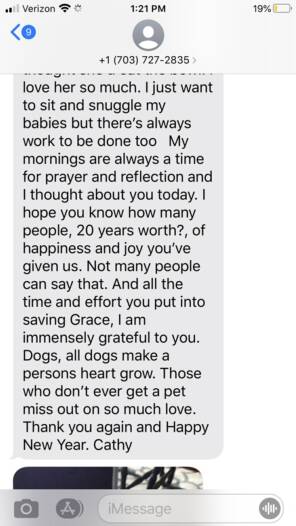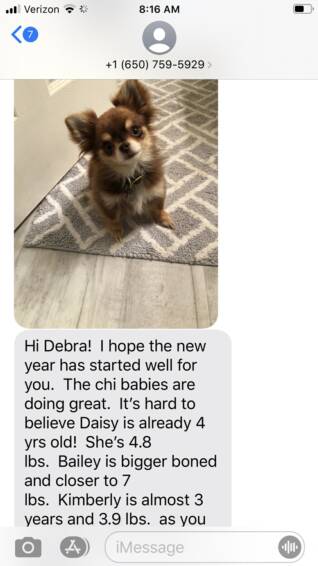 Rosas262@yahoo.com

October 6, 2017

I bought my Chihuahua puppy from Debra in September 2017. At first I was very apprehensive about purchasing a puppy online. With all the scams out there, it was a direction I was not sure I wanted to go. I came across Debra's web page and found the puppy for me. She was beautiful! I called Debra and spoke with her in length about Lilly and the Chihuahua breed in general. She was very knowledgeable and willing to answer all my questions and address all my concerns.When I got Lilly home, I was surprised to find she was potty trained. She was playful and happy and seemed in perfect health. I follow the rules of the contract and got her in to my Vet for a health checkup. My Vet said my puppy was very healthy and he took a stool sample to have sent outcame out clean No Parvo ....No Flees/Ticks.....No Health issue's! No WormsI just want to say Thank You Debra, not only did you sell me the perfect Chihuahua puppy, but you have been there to call when I have had other questions regarding Lilly after my purchase. I want to give my endorsement of this breeder to anyone wanting a perfect Chihuahua puppy. I have had Lily now over a month and she continues to do great. She is very smart and has become my best friend. We love her! If anyone wants to contact me regarding my experience with Debra, please feel free to email me and I will be glad to speak with you,Michelle

Deutschmann <jjd7200@yahoo.com>

Subject: Puppies

My name is JD Deutschmann. I'm contacting you because if you are considering a pup from Debbie, you need to buy it.My wife and I Cathy have no children and decided to buy a chihuahua about 3 years ago. I searched locally first, then reached out around the country cause this was going to be our child.Well we now have 3 Shooter, Rex, and Girly and can't tell you which is more perfect. Our vet, Dr. Firmin(Slidell,la) describes them as "Perfect specimen of the Chihuahua breed."We were a bit apprehensive buying and flying a puppy we had never seen from California, but we rolled the dice. All three were more than what she represented online and verbally and we couldn't be happier with all three of them. If you wish to discuss further , feel free to call me 504-450-6330

On Sep 21, 2018, at 12:07 PM, Jesse Wilde <jessewilde@verizon.net> wrote:

Hi Debra...  hope you are doing well. Mindy is a beautiful and loving pup. She has captured everyone's heart. She sure has Kathleen's & my heart. She is happy sleeping in her play pen and enjoying life. She has a cousin Ted who is my Sister's Terrier.  Mindy is also going to be in a tv series with me. We start filming this coming Oct.  'm preparing fir a principle role in a TV movie called Deadwood.  We start filming in the coming Oct. also. I'll be filming for a couple of weeks.  Possibly more. We are very happy that you had Mindy waiting for us to bring home.  You have done a remarkable thing in caring for and preparing Mindy for her new forever home.  I will keep you up dated with Mindy's adventures and her family that love her very much. Take care Debra and continue to have such terrific pups that are healthy, happy & prepared to capture a family's heart. Thank you again Debra. We have the best pup any family would be happy and proud to have.

Best regards Jesse & Kathleen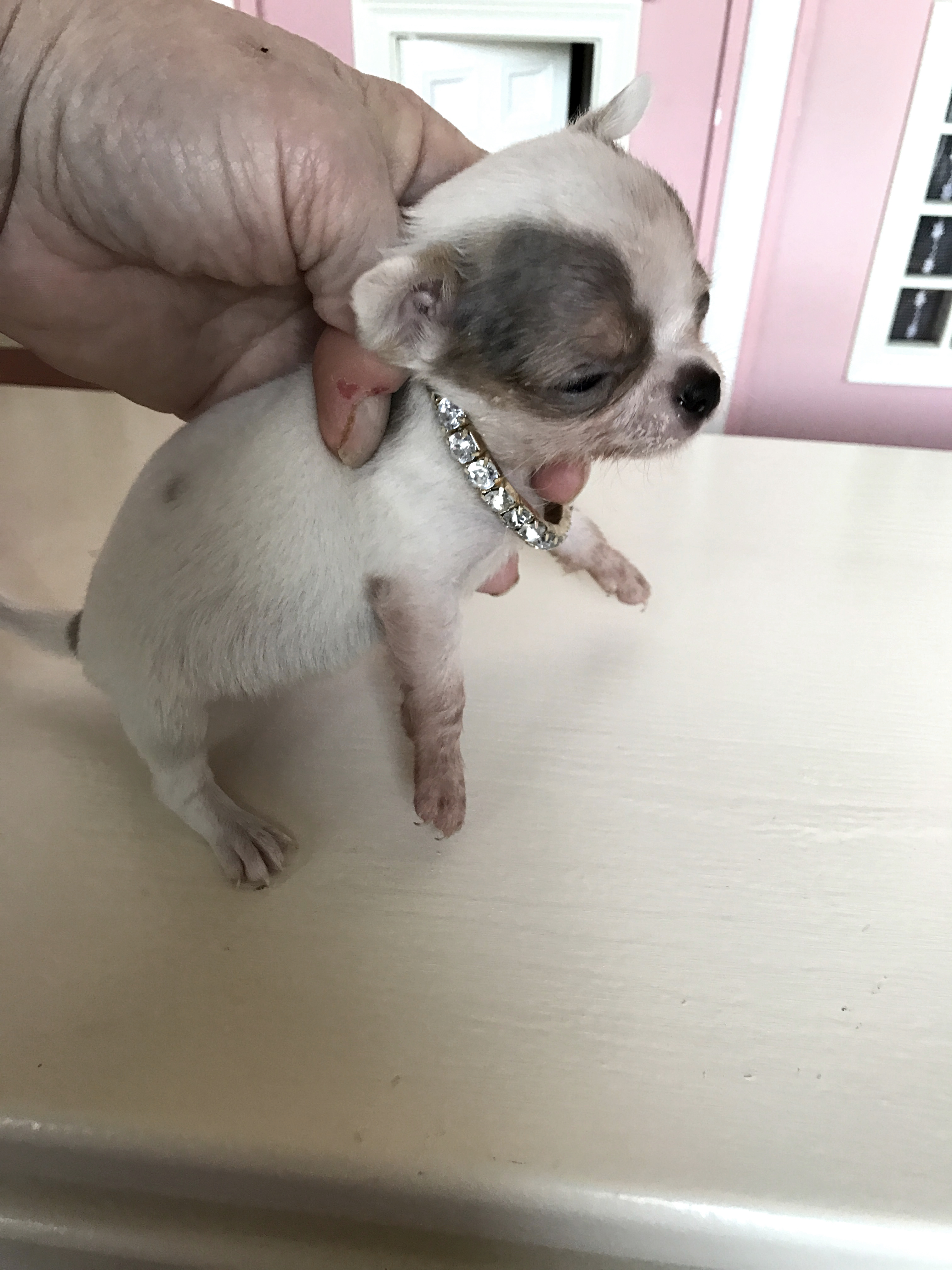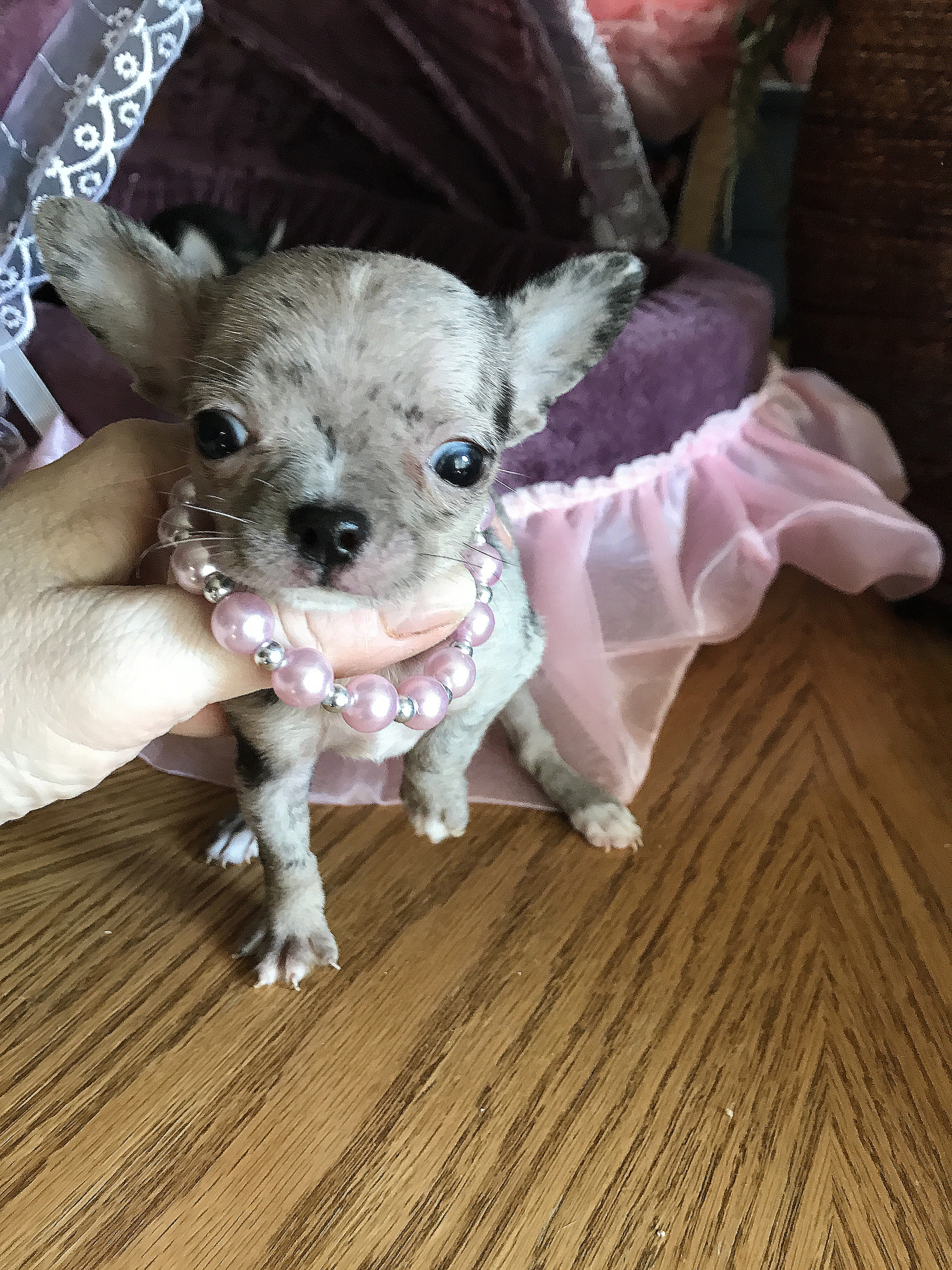 THESE  THREE PUPS ARE NOT FOR SALE!!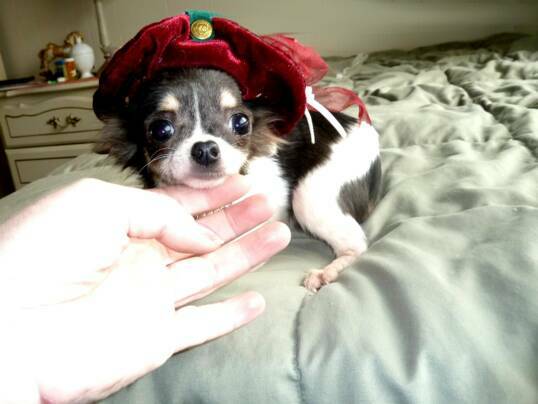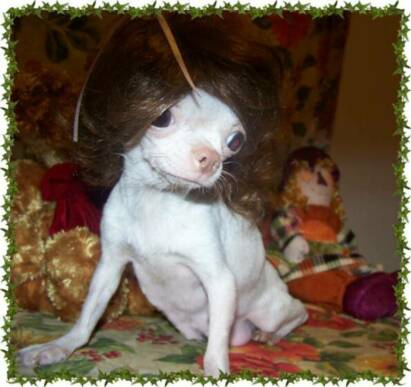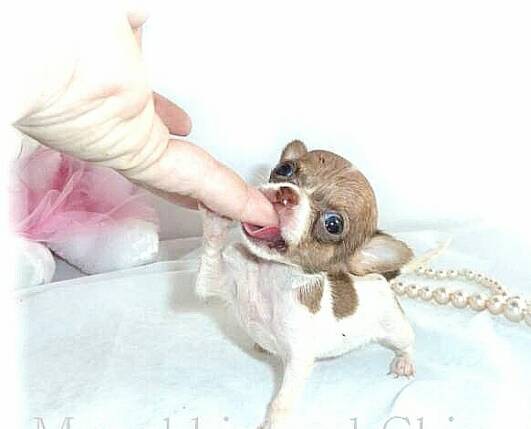 Coronado Family (mousenhisspouse@gmail.com)

06/03/2020

I live in Texas... I too, just purchased a puppy from Debra about 2 weeks ago (May 20, 2020). I was a pitbull mom before and let my dog out to use the restroom and he returned poisoned and vet couldn't keep my big boy alive. My husband and I were heart broken for months and I started looking at a much tinier breed so I wouldn't have to let out to use the restroom. I did my research locally and no luck. I went online and came across Debra's ad which led to her website and I fell in love. I was so sceptical about buying out of state but when I spoke to Debra I could just tell that I could trust her. She was so sweet, genuine and funny. By the time she finished talking, she had literally answered all my questions plus more that we laughed because I didn't even have to ask anything. She was so on point and so easy to talk to. We nearly spoke for an hour. That 1 conversation with her sold me. I knew I had to convince my husband bc the price was not one we've ever paid. But after doing my research, Debra's prices were pretty decent for the sizes. So I spent almost the entire buying process trying to convince my husband to let me purchase the puppy I was already getting lol. He gave in after seeing her page and YouTube videos. My experience with Debra was great, she was very patient in dealing with the minor payments issues we ran into. Paying through Zelle gives some banks restrictions and I happen to be one of the few that could only send payments in amounts of $250 per transaction. (Something people with major banks don't have to worry about) Debra was very understanding and made accomodations for me as well. And due to some accomodations, she even helped save money. My entire process down to the pet courier she gave me was excellent! I am very pleased with doing business with Debra. My puppy is healthy as per vet, she is a happy, cuddly, loving girl. She's so silly, she keeps us laughing. My family loves her. She's the baby of the family and she knows it! She even asks to be carried, she's too cute! And on top of being so adorable, she is even paper trained! Given, she found a spot where she wanted to go and that's where we placed the pads. She goes to the same spot everytime! The one and only issue I have is that I think my babygirl favors my husband lol.. after trying to convince him for so long! Lol Needless to say, we will be purchasing another pup from Debra in the future!

So yes Debra, due to the quality and fun-loving traits of Ebony, you made my sceptic husband a believer!

To potential buyers:

Buying out of state is a risk, but it's gotta be a risk you're willing and financially able to take. (Advice from the stock market) I got lucky and put my money in the right hands! And I'm glad I didn't allow any less than perfect reviews to ruin my chances of having the perfect little girl I have now. Communication is key. I created MY OWN experience and I'm glad I took the chance with Debra. I highly recommend Debra! My mom and sister want to purchase from her as well

Over 200 references are on this site! See Below. This website is my 18 year old website I won't give it up as it has a n 18 year history for me. I have a new website that I paid to have built  2018 and is always updated HERE