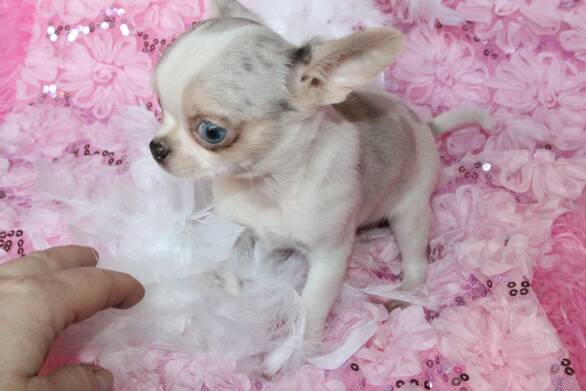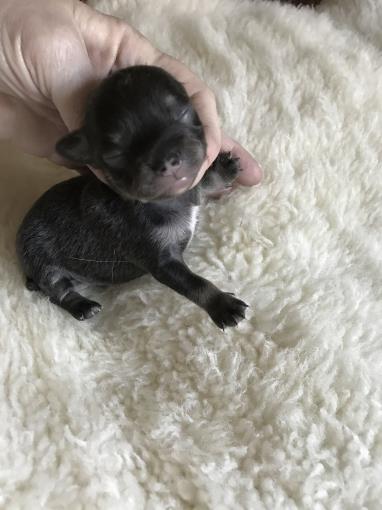 Tags Chihuahuas For Sale,Chihuahua Puppies For Sale,Teacup Chihuahuas,Applehead Chihuahuas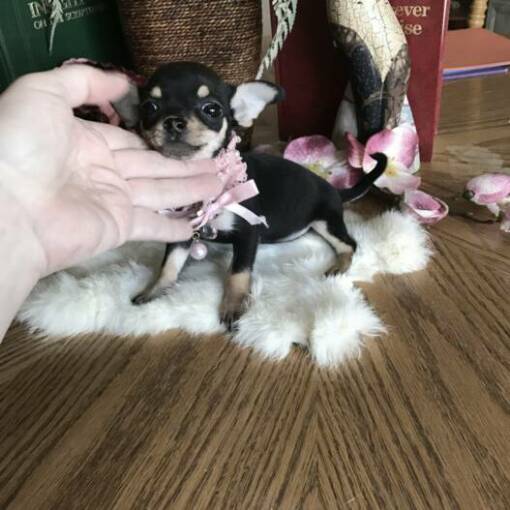 From kdelzoppo kdelzoppo@icloud.com    Tue, Jun 30, 2017 2:45 pm

I would consider Debra more than just a breeder. She genuinely LOVES every puppy she sells!Like no other breeder that I have experienced in the past, she is there to answer every question before and after purchase. This is not just a business for her; it is a commitment to provide EXCEPTIONAL QUALITY!  I was AMAZED at the impeccable condition my puppy arrived in. This puppy was social, clean, BEAUTIFUL, well mannered,paper trained, and above all HEALTHY. There is no doubt in my mind, that Debra is one of the BEST, when it comes to Chihuahuas. Trust me, I've purchased 3 puppies in the past, that can not compete with the quality of Debra's.If you are in the market for a Chihuahua puppy, this breeder is ,by far, the one that I would recommend and contact! I'm so  impressed, that I would even like another pupp-y!!!!Thank You Debra for a MOST POSITIVE EXPERIENCE!

*********************************************************************************

2/10/2017                                                                                            Sunday 6:25 pm

There you would not beleive your little Ruby. She has come out of her little shy self . I was so surprized to see  Ruby pick up a toy and throw it around  squealing with joy .It has been so good to see her relaxed and happy.She loves warm goats milk. At first she wouldnt not move away from my feet. She carries herself. She prances around tail up, head high just like a little show dog in the ring. She barks at the other dogs when she wants their attention. She is holding around 2 lbs now at 6 months old. She is still very sweet and loves to cuddle/ Thank you, I love her. Working with you as a wonderful person, your honesty, and knowing your dogs so well. Keep in touch,

Best Mallory

********************************************************************************

hu, Mar 16, 2017 5:46 am

Wee willie 

From Bernadette Mier bmier505@

To munchkinpups@aol.com

Debra, we just love Wee Willie, now named Zeus. He is precious. If you ever need a review of your services, please let us know. Your service is everything you claim it is. Thank you, thank you. Bernadette

-------------------------------------------------------------------

Hi!

I wanted to let you know Blue Angel AKA (Penny) is doing great!!! We love her dearly.She is a little shy,but coming around.I thought it would take her longer being 9 months,but she is very sweet My gosh, we didn't think she was so tiny, and even more beautiful in person.I can now see why other breeders would be jealous.I havent seen such a beautiful dog in 40 yrs.I am taking her for her Vet apt.tomorrow. I hate to because she is just now settling in,but I will/am going to abide by our contract.Feel free to use me as a ref. I can't even believe she is 2.5 lbs I think the scales are wrong! LOL She feels like she doesn't even weigh a lb. She is so very much the lap furbaby we wanted. She isn't wild or crazy at all.She just started giving kisses this evening.Yea,remember our time is dif.We went and bought her another new bed (made for a ferret) LOL because she is sooooo tiny.She loves it.We have been looking for yrs and I am glad I waited and got the little girl of our dreams.Well,I know you are busy and have tons of e-mails to read so I will stop here,as I could go on,and on,and on,about how pleased we are,

Thx again Kenneth and Deana

Subject: Re: Loving my baby boy

Buribe < burib> wrote:

I just wanted to say we are so happy with our baby boy.  We have named him "Spanky"....He is our pampered baby boy.  Darlah, our female chihuahua loves him as well!  Spanky has adjusted to our home and fits in perfectly.  We are also very happy he is knows to use the potty pads when he came to us.  I will definitely use you as our future breeder when we or anyone else is needing one. Thanks for a beautifully raised, adorable, well mannered puppy

Sincerely Bobbi


Page  last updated: August 24, 2019
"TWEETIE" PENDING DEPOSIT

PICKLE❤ X Tiny, Dollface, soulful eyes

DOB 5/15/2019

MOM  4 lbs SUGAR

SIRE  2.8 lbs DON

GENDER male

Price  for pick up only $1850

NON Pickup regualr price is $2200 plus $350 shipping

A short hair Beautiful markings. Applehead. Charts 3 3.5 lbs  grown.

APPROX READY  September 5

Call or text 209-328-0953

SNOWMAN❤ Showy,  Dollface

DOB 5/15/2019

MOM  4 lbs SUGAR

SIRE  2.85 lbs DON

GENDER male

Price $1850 pick up price only

Non Pickup Regular price is $2200 plus shipping$350

A short hair Perfect Applehead dollface  Charts 3.8 lbs  grown.

APPROX READY September 1

Call or text 209-328-0953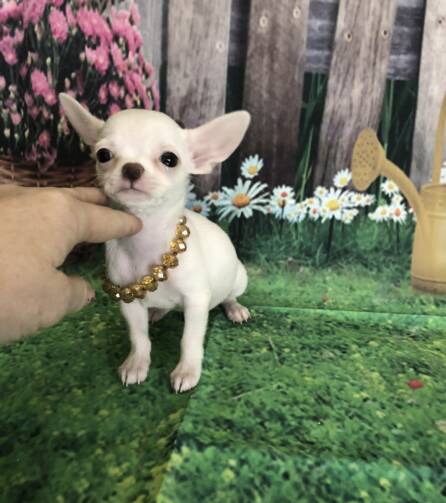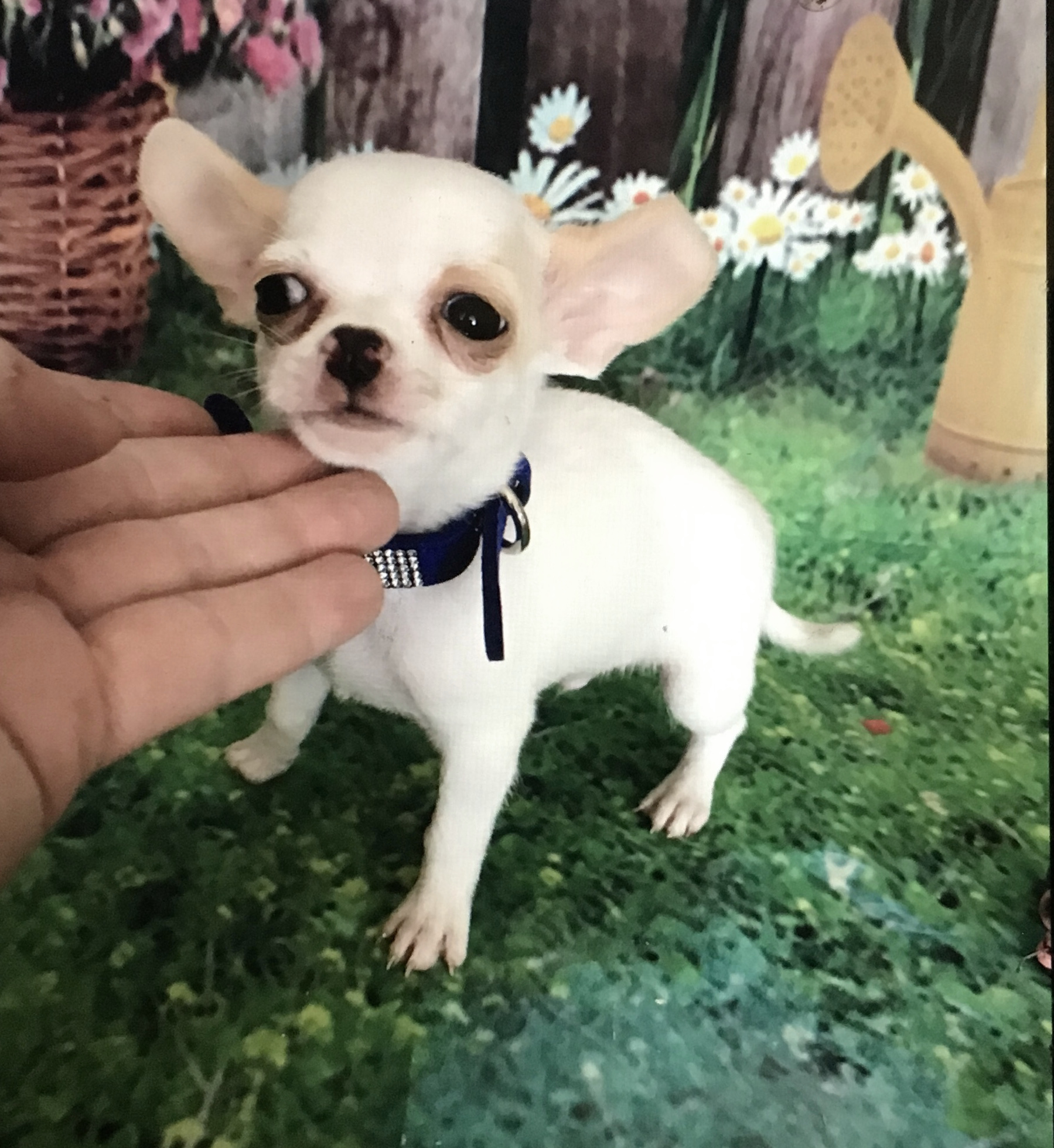 PARENTS PICTURES INCLUDED IN THUMBNAILS