OUR  PUPS GROW MORE BEAUTUFUL AS ADULTS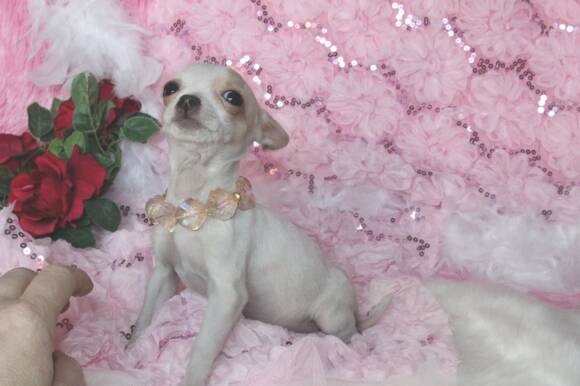 -

Subject: Re: Loving my baby boy

On May 3, 2015, at 2:24 PM, Buribe < burib@aol.com> wrote:

I just wanted to say we are so happy with our baby boy.  We have named him "Spanky"....He is our pampered baby boy.  Darlah, our female chihuahua loves him as well!  Spanky has adjusted to our home and fits in perfectly.  We are also very happy he is knows to use the potty pads when he came to us.  I will definitely use you as our future breeder when we or anyone else is needing one. Thanks for a beautifully raised, adorable, well mannered puppy

Sincerely Bobbi

----------------------------------------------------------

On May 8, 2015, at 11:42 AM, Christy Roberts < christyroberts@gmail.com> wrote:

I'm writing to update you on my 2 little boys I got from you April 28th.

They are doing great! They are still  using the pee pads! What a blessing!

They arrived clean, social, energetic ( after their flight) and  just full of personality. I love them both SO much! The first night home they spent exploring their new surroundings (together) and it wasn't long before they settled down with me for cuddles. They slept right through  the night. They are eating well, I followed your instructions regarding the dry food, goats milk and baby food chicken sticks. I also gave them nutrical. They were seen by the vet who gave them a clean bill of health. Their coats are so shiny! I know it might have felt that I didn't completely trust you in the beginning. As you know,  this was mostly due to the other breeder I had dealt with on 2 seperate occasions.  With so many so called "breeders" running puppy mills and those redicilous accusations against you, I admit was a bit skeptical. It's now  more than crystal clear that these babies were loved, well fed, socialized and potty trained to boot. 

You went out of your way ( on several occasions) to take my fearful phone calls as I was worried about their size of al things right? This was because the previous breeder I had bought two chihuahuas from lied about their size by about 5 lbs. Please accept this letter as not only a reference but also an apology for my lack of trust in the beginning. I would be more than happy to talk to any future buyers who might be having doubts due to all of the false and malicious accusations which are most likely due to jealously. Please feel free to have them e-mail me.  When all is said and done,selecting a puppy is a huge decision as they become part of our families.  I know you will continue your work and dedication to producing healthy, happy and well adjusted babies. I will stay in touch and keep you updated.  Thank you again for everything!

Weight and size are two different things. A woman had a 16 ounce 3 month old she bought from a Breeder in Texas and that puppy that ended up 10 lbs. The puppy was sold as a teacup DUE TO LOW WEIGHT. The puppy was just 1 lb at 3 months. The consumer came to be after that puppy she had bought from the breeder went from 1 lb  3 month old  to a 5 lbs 5 month old . That is a weight gain of 4 pounds in two months. So what significance was it that the puppy weighed 1 lb at 3 months? The puppy was very thin, skin and bones, riddled with hookworms.  The woman decided to trust me and a little boy who was almost 2 lbs at 3 months and charting to be 3.5 lbs. I named that puppy Stuart. He was a chubby but small bodied  puppy  whom I charted at 3.5 lbs grown. Stuart  ended up 2.0 lbs at 1 year old. he had just gained a few ounces since he was 3 months old. A puppy like my Stuart had a SMALL BODY as a puppy,so his chubby weight was insignificant. His weight did not project his adult SIZE nor did his  puppy weight project proper adult WEIGHT. There is so much to prediction of adult size and it is NOT based on weight alone.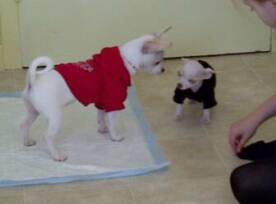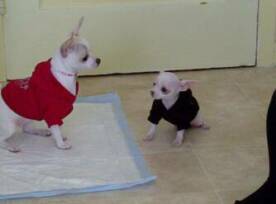 This page was last updated: December 15, 2017
OUR PUPPIES KEEP THAT BABY LOOK!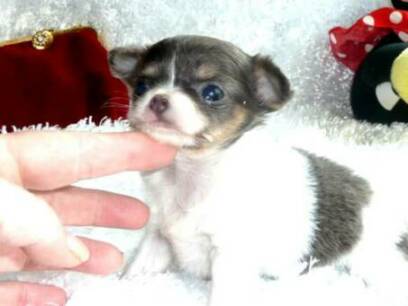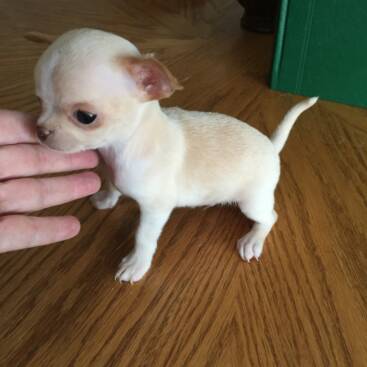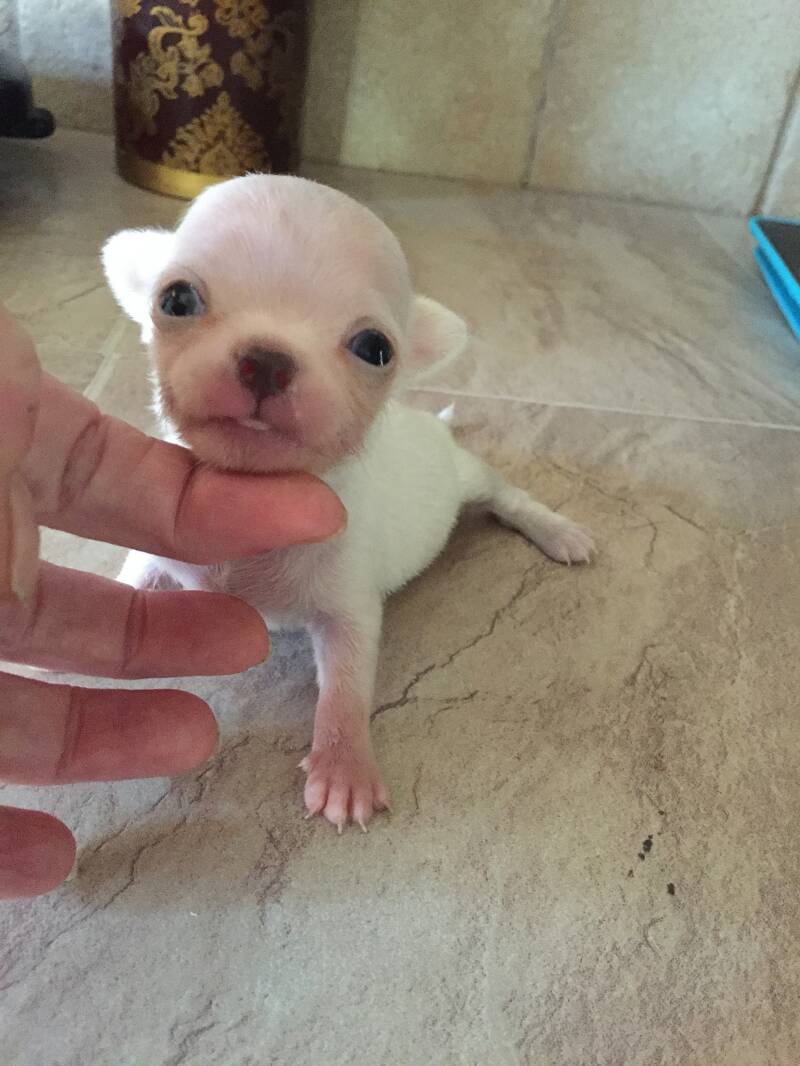 ONLY 30 DAYS APART IN AGE!!